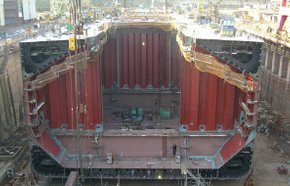 Misuga has extensive experience working with shipyards for new ship building supervision, selection of machinery and other related activities. With an experienced team of professional personnel available, Misuga is capable of providing a full range of new building supervision services from yard audits, yard selection, design consultancy, and plan approval to contract negotiation with shipyards.
Misuga's Newbuilding personnel have extensive experience building a wide range of vessels in shipyards in Japan, Korea and China. Being a ship owner, and a manager of over 170 vessels, Misuga is in a unique position to offer its clients the experience gained from operating a wide variety of vessels.
Misuga's Newbuilding team is comprised of highly qualified naval architects, hull and machinery supervisors and painting specialists who keep up with the latest regulations and advances in technology in the field of new ship building.